SV Reference: 22C119SV
Location: Agadir, Morocco
Key Data: Hypermarket: 7.200m²; Retail: 1.3000m²; FoodCourt: 4.950m²; Leisure: 6.300m²; 1.200 parking spaces.
Technology: Shopping Centre, Breeam, Leed, Sustainability, BIM, Parking, Energy Efficiency, Design.
Client: Marjane
Savener has developed the Concept Design of the project for the new Sustainable Shopping and Leisure Complex located in the western part of the city of Agadir, on the coast of Morocco.
The shopping centre has a total surface area of 86000m², of which 40% is occupied (34000m²).
The OASIS project is an innovative project that combines a striking architectural design, a set of well-organised uses and a sustainable design concept that offers the Moroccan and African market in general a new vision of commercial architecture.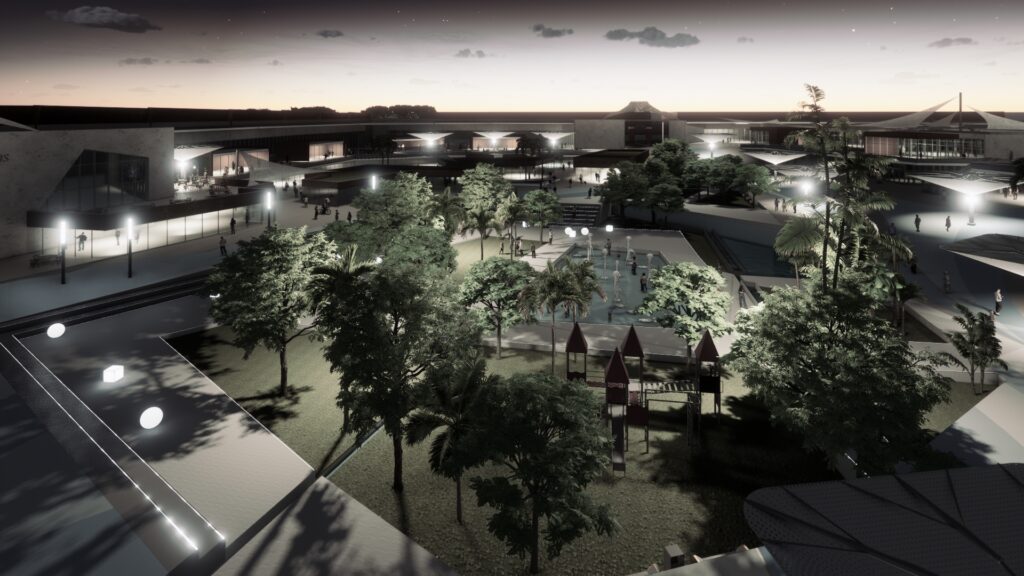 Adapting to the current concept of a shopping centre where leisure takes on the main role in the formal structure of the project, Savener has developed a design around an outdoor space that organises the volumes and establishes the communication flows.
Solutions have been sought in materials adapted to the design that define the different uses; Equitone type fibre-cement, solid wood and Parklex Prodema type laminated wood, aluminium, stone, concrete or glass.
The central space distributes the food court throughout the project, connecting the different uses and adapting the project to the topography; this integration study analyses the economic impact from the initial phases of the design, providing greater value.
The precise three-dimensional coordination from this conceptual phase allows the client to have a very studied information that helps in the decision making that has made possible the success of the solution and the viability of the project.
The conceptual ideas have been projected on the basis of a sustainable design; the study of wind, sunlight, orientation and the flow of people and goods make it possible for the future complex to provide greater comfort for the visitor.
Thanks to the project, the city acquires a greater tourist attraction, by creating a new focus of attraction and providing new leisure alternatives that complement the beach and surf tourism that is currently centralised in the area.
This project represents a significant value in the West zone, injecting a large amount of capital that will economically improve the city and turn it into a strategic focus for future business and a base for future commercial and leisure expansion in a large part of Africa.