There needs to be a constant exchange of knowledge, perspectives, ideas, solutions, strategies and attainments if we want to improve the solutions and approaches we apply to each of the projects undertaken. Establishing a good Knowledge Network and making connections with a broader field that strives to progress in sustainable solutions will guarantee spectacular advances in the services companies can offer and the success of their proposed solutions.
SAVENER has made a persistent effort to establish an appropriate working model for «NetWorking» making it possible to reach beyond the potential of our own team to other domestic and international groups to ensure that that our firm's ultimate solution is the most robust, suitable, efficient and sustainable. At the same time, this working process helps us to establish lines of research to develop new solutions that can be implemented with first-rate international teams.
As Partner or Technology Assessor, Savener has collaborated and taken an active role in many Seminars, Congresses, Conferences and Working Groups, at home and abroad.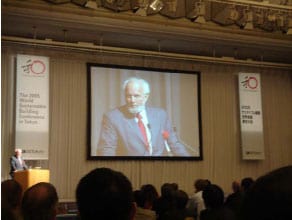 Dr. Enrst Ulrich Von Weizszäcker Considered the Father of Efficiency in Resource Use. He is a member of the German Bundestag. He was Director of the Institute for European Environmental Policy (IEEP) in Bonn, London and Paris, President of the Wuppertal Institute for Climate, Environment and Energy, member of the Club of Rome, member of the German Parliament, member of the World Commission on the Social Dimension of Globalisation. He is the author of the influential book «Factor Four. Doubling Wealth – Halving Resource Use» which has been translated into more than eleven languages and proposes a true revolution in the way we understand the real effect that mankind is having on the planet.