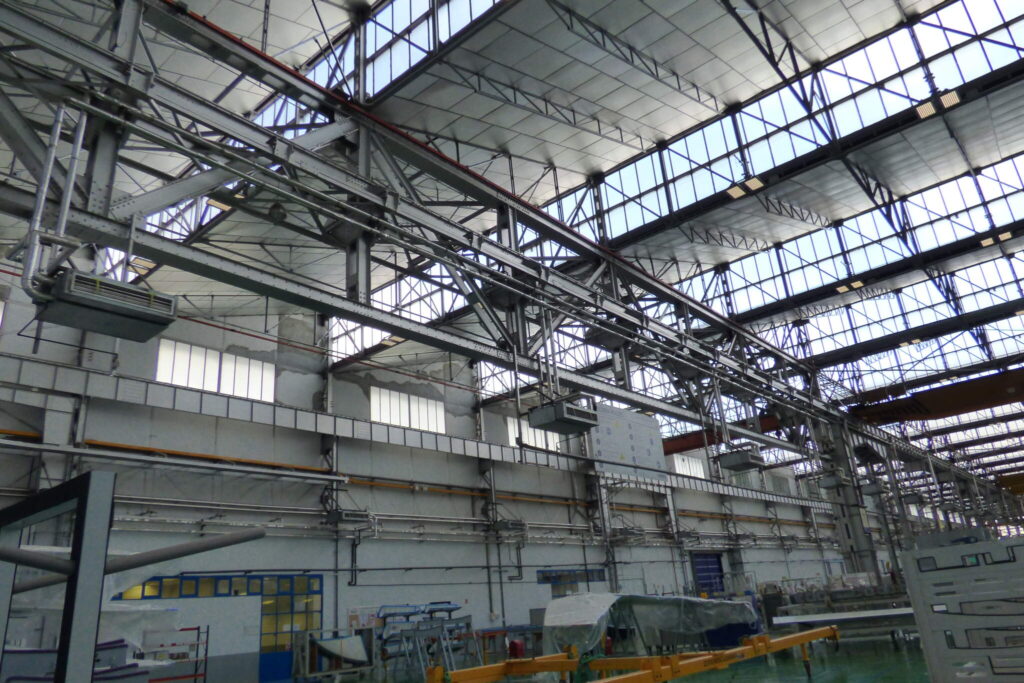 Since 2013 Savener has been immersed in the design and construction of the HVAC system upgrade of the entire Airbus Tablada Plant in Seville.
This journey began with the reform of the Cold Generation Plant, located in Building K within the factory itself. In this Phase I, the existing plant, whose machines were in an advanced state of obsolescence, was dismantled and a new chilled water generation plant for air conditioning was built with new magnetic levitation air-cooled condensing chiller plants.
Following on from Phase I, Phase II was carried out, during which the Cold Plant was extended, a new Heat Plant was built and a new energy distribution ring to the different halls of the plant, and the air conditioning installation (hydraulic network and air conditioning terminal units) of halls E and J was refurbished internally.
This project completes the process of modernising the factory's air-conditioning installation
In this Phase III, in which the project for the reform of the HVAC system in hall A will be executed, it is contemplated, as was done for halls E and J, the complete replacement of the existing hydraulic network and interior air conditioning terminal units with a new network with greater capacity and more efficient equipment with variable flow.
This project completes the process of modernising the factory's air-conditioning installation. Once it is executed, it will mean that Airbus Tablada will have one of the most efficient installations for heat and cold generation within the company and the industrial sector in Spain.
Thanks to Savener's multidisciplinary team of highly qualified professionals, it has been possible to complete this transformation. No one is unaware of the difficulty involved in a refurbishment of these characteristics on a site which, in addition to all the operational complexities, has a Special Protection Plan as Industrial Heritage of the city of Seville.
For all these reasons, the advanced Graphic Representation systems that have been used have been very important, from 3D Laser Scanning to the precise BIM Modelling of the implantation, even more so when it must be foreseen that the existing installation must remain operative during the execution of the new one, at least in a transitory phase.