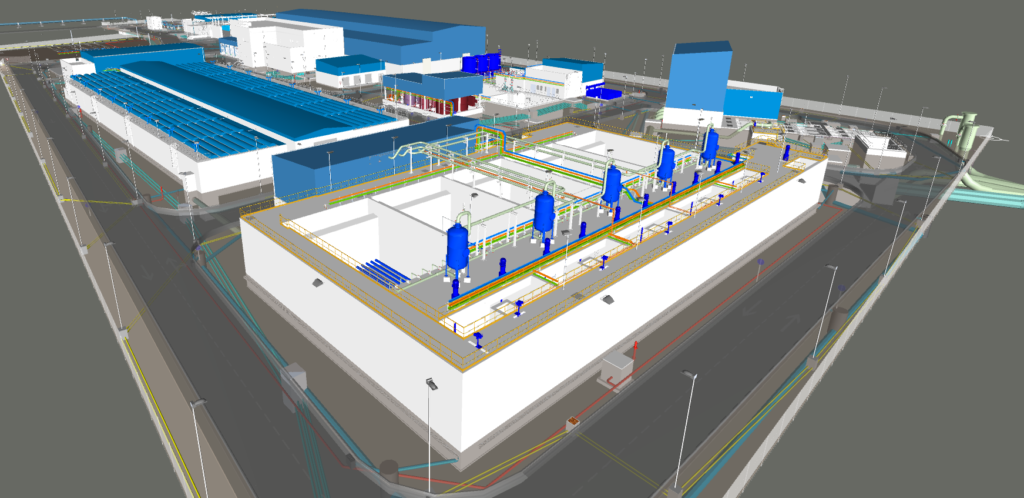 Savener has completed the last engineering phase of the BARKA V desalination plant, located 60 km from Muscat, Oman.
It is one of the largest desalination plants in the world based on reverse osmosis technology with a production capacity of 100,000 m3/day of drinking water. It has a pre-treatment phase consisting of DAF, gravity filters and cartridge filters. After the osmosis phase, the water is subjected to a remineralisation process. The reject water is pre-treated in an effluent treatment plant before being returned to the sea.
The development of this phase has led Savener and its client GS-INIMA to overcome many difficulties in recent months
One of the biggest challenges solved in this phase has been the coordination between works and engineering, solving in record time a multitude of problems that occurred in the works, especially in the civil discipline and, consequently, in the rest of the disciplines. Special mention should be made of the exhaustive coordination between these disciplines that was necessary to make the execution of the project possible.
It has been a hectic road that has forced our team to surpass itself day by day in order to meet the objectives set by our client's planning. A path that, although full of difficulties, has been exciting and satisfying for those of us who love our profession. We are proud to see what the SAVENER and GS-INIMA teams have worked so hard and sacrificed so much, which together, once the works are completed, will make it possible to supply drinking water to the entire population of the province of Muscat.