The vast expertise of SAVENER within the Aeronautical sector and the experience gathered in the last decade in the development of sustainable projects for the sector, have made it the company chosen to design the new factory where the new LS222 aircraft will be manufactured.
Luso Aerospace, the company running this project, had a clear view of what they wanted to implement both in terms of its new aircraft and in the factory itself that will manufacture the plane. From the beginning, they wanted it to be a reference for production in the sector, setting up one the most modern and sustainable factories in the world.
SAVENER assumed the challenges and desires of Luso Aerospace and, after an intense design process that involved our best specialists and a large number of company departments, we have successfully created an innovative, effective, robust, flexible and highly sustainable solution for the Concept Design. This solution constitutes a reference and a landmark in the productive systems of the aeronautical sector.
The solution covers an area of 50,000 m2, located in the Aeronautical industry park of the city of Evora in Portugal. The project includes different buildings to set up a complete FAL (Final Assembly Line) for the LS222 model and diverse services for the C295 Airbus model.
The interior logistics and the exterior connections have been simulated and analysed in order to design an optimal layout that ensures that the materials and people flow and also the final products flow along a natural and highly effective path, with minimum interference and organized for all of the functions and tasks to be carried out efficiently inside the plant.
The project creates a plant where the manufacturing of an aircraft and diverse services for another model coexist. For that reason, it has been necessary to place different spaces together in a group of buildings and areas properly interconnected and linked. Therefore, the factory has a Control and Access building, a Warehouse, FAL building, Training Centre, Corporate Building, Locker Room, Raintest area, Engine Run up area, Delivery Centre, Paint Building and two fully functional MRO stations for the LS222 as well as the C295.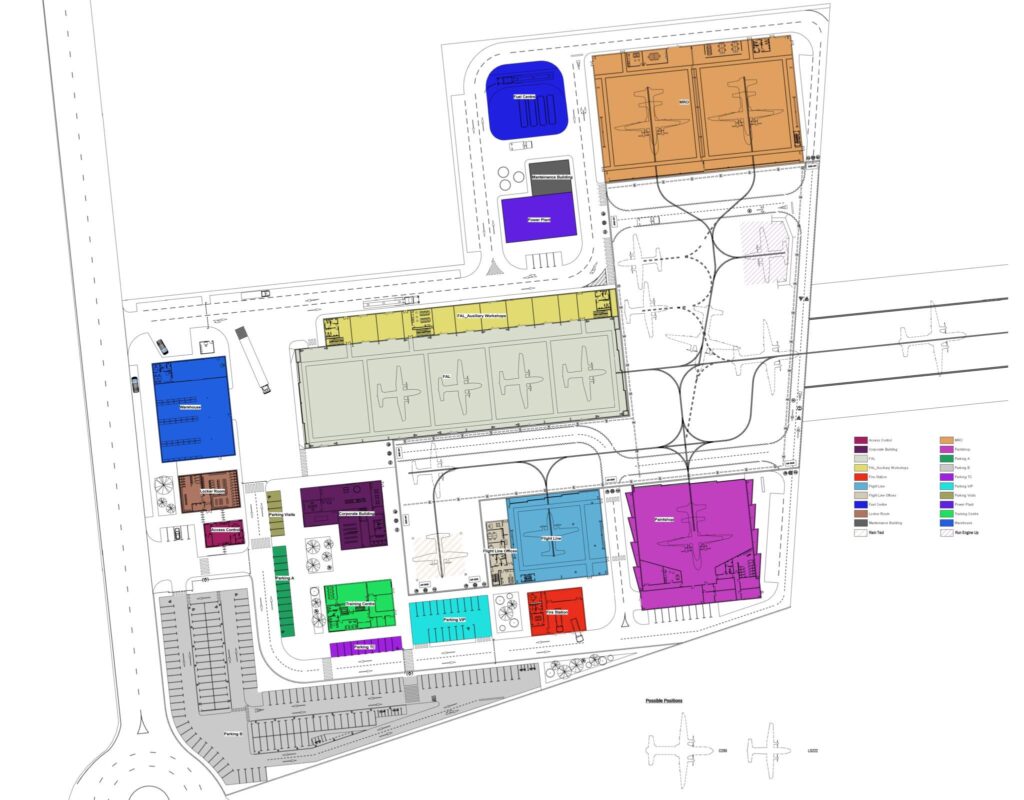 After the presentation of the Concept Design phase, and receiving approval on behalf of the developer company technicians, the project now begins the development of the Detail Design in order to complete final construction before June 2023. This means that the first flight could successfully happen in 2025, as scheduled in the Master Planning Project.